Roundwhale, a leading company in developing, designing and manufacturing electrotherapy products, will participate in the MEDICA 2023 trade fair in Düsseldorf, Germany, from November 13 to 16. The company will showcase its innovative products, such as the 5-in-1 series, which combines TENS, EMS, IF, MIC and RUSS functions; the electronic foot therapy machine, which provides massage and stimulation to the feet; the wireless MINI TENS machine, which is portable and easy to use; and other complex electrotherapy devices, which can treat various conditions and improve health and wellness.
The MEDICA trade fair is the world's largest event for the medical sector, attracting more than 5,000 exhibitors and 120,000 visitors from over 170 countries. It is a platform for showcasing the latest trends and innovations in medical technology, diagnostics, laboratory equipment, digital health and more. Roundwhale will join the exhibitors in Hall 7, Stand E22-4, where it will display its products and demonstrate their features and benefits to potential customers, partners and distributors.
Roundwhale has been in the electrotherapy industry for over 15 years, and has established a reputation for high-quality, reliable and effective products. The company has a strong R&D team, which constantly develops new products and improves existing ones, based on customer feedback and market demand. The company also has a strict quality control system, which ensures that every product meets the highest standards and complies with the relevant regulations and certifications.
Roundwhale's products are designed to provide pain relief, muscle stimulation, nerve stimulation, microcurrent therapy and Russian stimulation, using different modes, frequencies and intensities. The products are suitable for various purposes, such as rehabilitation, fitness, beauty, relaxation and more. The products are also user-friendly, with LCD screens, touch buttons, rechargeable batteries and wireless connections. The products can be used at home, in the office, or anywhere else, according to the user's preference and convenience.
Roundwhale's spokesperson, Mr. zhang, said: "We are very excited to participate in the MEDICA 2023 trade fair, and to present our products to the global market. We believe that our products can offer a great solution for many people who suffer from pain, muscle problems, or other health issues, and who want to improve their quality of life. We hope that by attending this event, we can expand our network, increase our visibility, and create new opportunities for cooperation and growth."ss
Roundwhale invites everyone who is interested in electrotherapy products to visit its stand at the MEDICA 2023 trade fair, and to experience its products first-hand. The company's representatives, Mr. Zhang and Miss.Zhang, will be happy to answer any questions and provide any information that the visitors may need. Roundwhale looks forward to meeting you at Hall 7, Stand E22-4, from November 13 to 16, 2023.
: [MEDICA 2023 - World Forum for Medicine] : [MEDICA 2023 - Trade Fair Profile]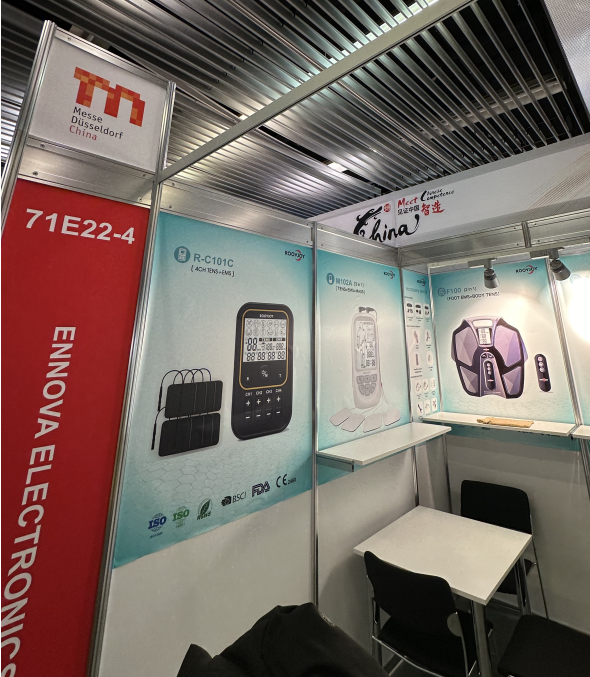 ---
Post time: Nov-13-2023